SAY HELLO TO THE
Intelligent Engagement Platform
A feature-rich CDP with insightful Customer DNA
and real-time interaction management
AI-Powered Orchestration Made Simple for Smart Marketers 
Unify Customer Intelligence and Engage in Real-Time in a single platform
All your customer intelligence is at the tip of your fingers with easy and instant access to many metrics for every individual customer. We enable you to set up and deliver the right offers to the right people, at the right time, and create product and service offers.
IEP capabilities such as Customer DNA, Next Best Experience, Smart Audience Creation, Customer Journey Analytics, and Real-Time Interaction Management all come together in this central user control center. 
Always-on customer intelligence powers relevant recommendations with rich personalization throughout the customer experience and across all touchpoints.
No-Code Personalized Campaigns
Empower your Marketers, make them Citizen Developers
Marketers want to be independent from IT and data scientists. That's why we built our IEP and UI with the marketer in mind, by giving them full access to leveraging the insights taken from real-time data. The user-friendly design and user interface ensure the marketer is empowered to apply AI for discovering valuable new audiences and driving personalized experiences to those individuals for maximum customer engagement. This hands-on data experience allows marketers to build everything themselves such as audiences and offers.
The no to low-code development, pre-designed models and customer attributes derived from data, ensure quick setup, giving marketers the freedom to manage campaigns while IT retains control over the dataflows and structures.
Single Customer View
Access Customer DNA: a Real-Time 360 View on any Customer​
NGDATA's Customer DNA is at the core of our Intelligent Engagement Platform (IEP). It is your data-fueled holistic and real-time 360 view on every customer. Customer DNA is derived from all customer data combined, providing a full understanding of customer history, context, behavior, preferences, and needs. Meaning your business can drive relevant and more personalized interactions – moving from traditional segmentation to individualized engagements.
With access to creating an unlimited number of custom metrics that represent the customer data in the most convenient format, and determining the next best action based on real-time behavior for every experience, our Customer DNA provides a powerful basis for intelligent customer engagement.
More details on our single customer view page.
Get Started Today
Connect with a NGDATA solutions professional and discover how we can help
your business capitalize on emerging opportunities in your customer data.
Audiences
Deliver the Right Offers to the Right People, at the Right Time
Once you have access to the Customer DNA, you can build audiences. Improve campaign efficiency with on-the-fly audience segmentation tuned to real-time shifts in customer behavior, interactions, preferences and propensities.
Dynamic Audiences 
Build target audiences based on any combination of 1000+ industry-specific DNA metrics, which are continuously changing due to the real-time nature of the metrics and audience membership selection. 
Smart Audiences 
Find the best audience members to target at scale based on real-time data. The IEP provides machine learning capabilities that are just one click away. Create audiences based on similarities with other customers, called Look-alike Modeling, and explore audiences to identify relevant sub-segments, called Clustering.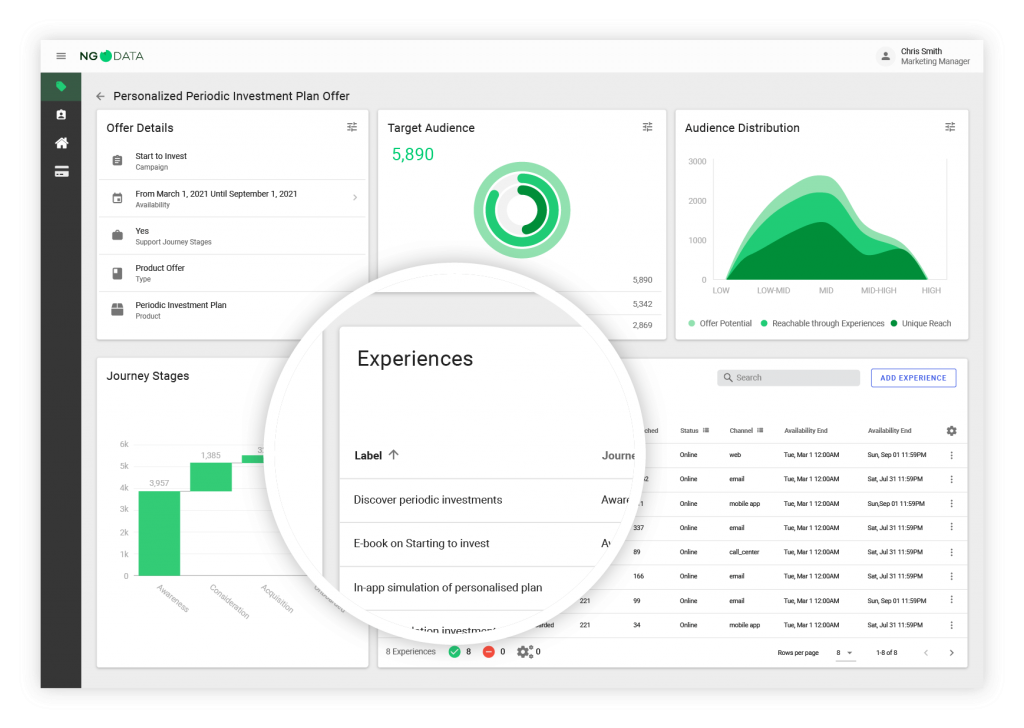 Experiences
Personalize in Real-Time Across All Your Integrated Channels
Connect both real-time and historic customer data insights with the most relevant real-time interactions.
Dynamic Personalization 
Increase campaign conversions and profitability by adding an AI/ML-layer over every offer and experience, through your customers' preferred channels in real-time.  
Context-Aware 
Continuously learn from the context of every customer interaction to reinforce consumer trust by maintaining convenient and relevant conversations. 
Omnichannel Experiences 
Engage customers wherever they are, taking into account most recent insights and interactions by swiftly integrating any on- and offline touchpoints to deliver seamless, fully connected experiences. 
Journey Stages
Curate Experiences Across Customer Journey, Driven by Real-Time Interactions and Behavior​
Map triggers and experiences to specific stages in the customer journey, curating end-to-end customer engagement from awareness to acquisition, onboarding, activation and retention.
Opportunity Prioritization 
Drive the most profitable customer interactions by prioritizing specific offers and experiences that address your strategic goals and initiatives. 
Dynamic Customer Journeys 
Go beyond pre-defined journey stages by continuously adapting to consumer behavior, so next-best-actions are delivered at the most appropriate and profitable moments. 
Journey Timeline
Visualize customer engagement with offers and experiences along journey stages so you can quickly identify what's working, and what isn't. 
Real-Time Dashboards
Analyze, Report and Optimize Your Campaigns On-the-Fly
Identify engagement and measure value through real-time dashboards that provide instant reporting, as omnichannel communications get prioritized and presented to customers. You can track through which channels you are reaching your audience and how they are engaging with the experiences. This allows your business users to immediately adapt, fine-tune, and tweak campaigns where required to maximize performance.
Watch our product video, to find out how you can know exactly how well
audiences are progressing through your campaign with our customer journey stages.

Catch a glimpse of our user-friendly interface