Our platform features
Drive intelligent customer engagement with more advanced CDP features
The Intelligent Engagement Platform's features enable businesses to engage with their customers on a more personalized level.
With our core and advanced features, we take customer data to the most sophisticated level, enabling real-time personalization at scale – to be relevant in every moment.
The perfect 360-degree customer view is in our DNA
Customer DNA™
Moving from traditional segments to individualized engagements requires a full understanding of customer history, context, behavior, preferences, and needs.
Our Customer DNA™ creates data-rich, 360-degree customer profiles in real-time that make the connection between metrics and more meaningful engagements for customers.
Action the next best experience at every stage
Next Best Action
Driving real value for customers relies on being able to anticipate and meet their needs at every stage of their journey.
The Intelligent Engagement Platform combines real-time scoring with decision-making capabilities to guide the next best interaction at exactly the right time.
Find and engage the audiences who count
Smart Audiences Segmentation
Learn from AI-led criteria to choose which audiences to target for more relevant and personalized experiences with our Smart Audiences Segmentation feature.
Discover untapped potential based on your existing audiences and categorize customers into previously hidden segments through data-driven look-alike modeling and clustering algorithms.
Orchestrate customer journeys that drive value
Customer Journey Orchestration
Keep prospects and customers moving in the right direction by selecting and delivering the most relevant experience through the most suitable channel.
Our Customer Journey Orchestration feature considers interactions from every channel and touchpoint to guide customers towards the next step in their individual journey.
Target customers with the right content at the right time
Real-time Interaction Management
Engage customers with contextually relevant communications via the right channel at the most appropriate time with our Real-time Interaction Management (RTIM) tool.
Our platform converts advanced analytics into actionable insights, meaning you'll never miss an opportunity for inbound or outbound communications.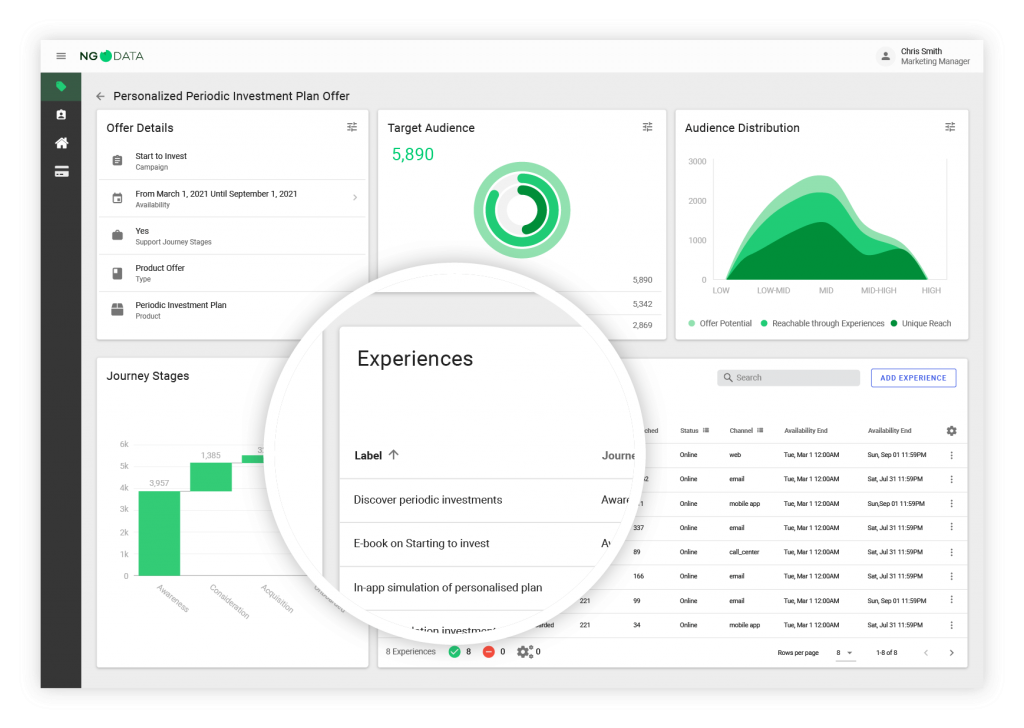 Keep customer intelligence at your fingertips
User Interface (UI)
Our platform's User Interface (UI) is intuitive and straightforward to operate, giving your marketing team the freedom to set up, manage, and monitor all strategies with ease.
Supercharge your customer experience campaigns with simple and instant access to metrics and explainable artificial intelligence.
Create a tech ecosystem with unified data sources
Data Integration and Unification
Our platform seamlessly integrates into your tech stack to unify data from all available sources, including delivery channels, CRMs, analytics, reporting tools, and data lakes.
Develop a truly holistic view of each customer based on 1st, 2nd, and 3rd party data sets as they update in real-time.
Protect your customers' data with first-class compliance
Data Privacy & Security
Our platform protects your customer data with territory-specific compliance guidance.
An external Data Protection Officer (DPO) is on hand to mitigate any risks to your customer data with compliance management, safeguarding, and controlled access to protected data from one centralized location.
Discover how to monitor your audiences' progress
throughout campaigns with our customer journey stages
Watch now
Why choose our advanced CDP?
Specialist
Our CDP is a pure-play platform with a customer analytics foundation, built to fuel insights with rich data. We ensure our integrated solution remains best in class, by further developing our platform with features that support our vision to drive customer engagement at scale.
Smart
Our Customer DNA™ creates individual customer profiles based on always optimized data. With AI-powered capabilities, it also segments data, identifies new audiences, and drives the next best experiences throughout customer journeys and across touchpoints with RTIM.
Scalable
Our big data platform ingests and stores large volumes of information to help your marketing strategies grow. It also offers out-of-the-box use cases to help your business achieve great results quickly, alongside customizable solutions that can be adapted to your needs.
Success
Investing in NGDATA's Intelligent Engagement Platform maximizes customer interactions that result in increased loyalty and revenue. We're so confident in our platform's capabilities that we offer an engagement-based pricing model.