Fewer Mortar and Bricks, More Digital Clicks

 
It's somewhat of an understatement to say that it's time for banks to digitize. Digital banking channels are now preferred to all other banking channels globally, and although customers still value local branches and face-to-face conversations, the banks that can't offer both are painting themselves into a corner. 
Growing digital confidence has created a consumer base that expects seamless online banking experiences, from mobile apps to live chat features, but a range of other factors have also accelerated the trend. The Covid-19 pandemic has been a key driver, but the democratization of transactional data has also welcomed a new wave of players to the financial services market. Now, our worldwide preference for digital is both a symptom of and a motivator for the banking sector's rapid modernization. 
The result? Customers don't just want more. They can have more – and traditional banks need to evolve quickly and boldly if they want to stay competitive. 
The Transformation of a Traditional Sector
At the root of every bank's need to modernize is, of course, a drive to satisfy their customers – but what do customers truly want, need, and expect? We asked more than 500 consumers about their attitudes towards banking and found that a bank's reputation isn't always enough to prevent them from switching providers.
 Consumers are comfortable 'mixing and matching' products and services nowadays, and this includes developing relationships with multiple banking providers at the same time. In fact, our research found that 93% of consumers use between 1-3 banks, with 5% using four or more.  
As customers become more comfortable using online banking platforms, such as budgeting apps, we can expect digital-first enterprises to swoop in with convenience and ease as their unique selling points.  
This is particularly likely amongst younger adult customers, with Deloitte finding that credit cards from brands, not traditional lenders, are becoming increasingly popular amongst millennials. What's more, 15% of millennials' banking interactions rely on alternative payment services, such as PayPal and Venmo. It's clear that it's not just the product or service that counts in banking, but the customer's experience of using it.  
Millennials aren't the only groups welcoming tech brands to the financial services market. We found that 66% of our survey respondents (aged between 18-60+) would be most likely to trust technology companies with their banking services and associated data, followed by travel and hospitality, retail, and telecommunications.  
Creating Tailored Transactions for Banking Customers
With the rise of open banking, it's unlikely that the number of tech disruptors joining the financial sector will slow any time soon. And, with so many organizations for customers to choose from, banks will need to focus on more than just products and services if they want to make the cut.  
To drive real value for customers, banks will need to learn from tech brands to create meaningful connections, ensure contextually relevant engagements, and deliver always-on digital services (something that almost 70% of customers view as important or highly important from their banking providers).  
Achieving true customer centricity is certainly possible for traditional banks, which have a clear competitive advantage over new players – historic customer data. By leveraging historic and present-day insights in real-time, banks can orchestrate relevant and rewarding journeys based on a deeper understanding of their customers.  
Our research shows that currently, customers are willing to share products and services information (38%) and transactional data (31%) before more personal insights, such as demographic data (17%) and online behavior (14%), in exchange for better banking experiences.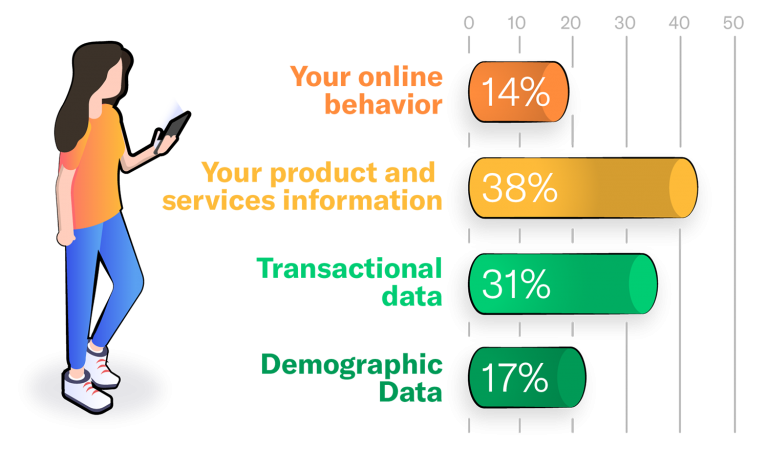 The challenge for banks is to demonstrate the value of data sharing by delivering personalized experiences in real-time, and for this, tech solutions are key 
Exchanging Data for Great Experiences with the Intelligent Engagement Platform
At NGDATA, we know that unified data sets and real-time interaction management (RTIM) capabilities are the vital ingredients for better customer experiences. Our advanced customer data platform (CDP), the Intelligent Engagement Platform, combines these functionalities to present marketers with a holistic and always optimized view of their customers, and guide intelligent decision-making for more strategic marketing campaigns.
Our CDP solutions are designed to help enterprises across all sectors, including the banking and financial services industry, deliver personalized and omnichannel experiences that foster loyalty, create advocacy, and ultimately maximize customer lifetime value (CLTV).  
To find out how our Intelligent Engagement Platform can help you create more meaningful banking experiences, get in touch or click here to request a demo. 
You can also download and read 'Banking: Open to Changing Customer Needs' in full for a more in-depth look at customer attitudes towards banking and what's needed to keep them satisfied.   
Read our Research Report 'Banking: Open to Changing Customer Needs'